Due to weather and field conditions we are postponing tomorrow night's Fall Fest. We are working on another date. When we have a new date we will let everyone know.
Tonight's Fall Fest has been postponed due to weather and field conditions. Fall Fest has been rescheduled for Friday October 29th.
DPS - Frequently Asked Questions - Return to School 2021-2022 Please click on the link below:
https://5il.co/x2vf
Welcome to Redbird Athletics for 2021! Registration for Softball, Baseball, Cheerleading, and Girls Basketball is now open. Initial registration is for 6-8th grade students, except cheerleading. Once we see if there is a need for more athletes, 5th graders will be able to register. All athletes will need to be registered for school, on 8 to 18, and have a current physical on file in the office before the deadlines: Softball: July 16th Baseball: July 23rd Girls Basketball: August 20th Cheerleading: September 30th Sports fees are not paid during school registration. Sports fees can be payable to Dwight Common School as follows: One child/one sport: $30 One child two or more sports: $60 Multiple children in two or more sports: $90 Any questions, please email, Mr. Jenkins;
jenkinsj@dwight.k12.il.us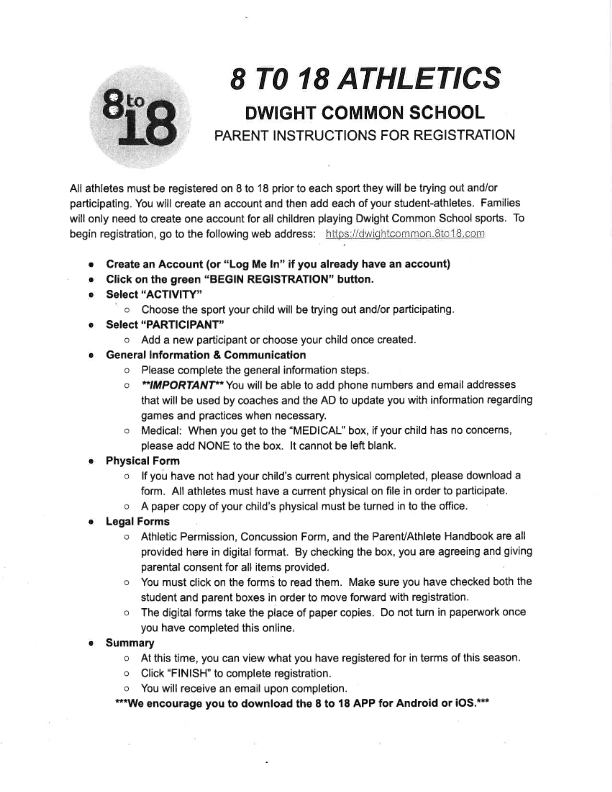 Other Reminders: ARRIVAL & DISMISSAL PROCEDURES -DIAGONAL ZONES: QUICK DROP-OFF/PICK-UP -DIAGONAL ZONES are designed for convenient parent drop-off and pick-up. -DIAGONAL ZONES are for expedited drop-off/pick-up of students without adult exit of vehicles. -Any parent leaving their vehicle must pull into a parking space (west of the main entrance/along circle drive). -Vehicles should pull forward to the front of the zone, NOT STOPPING in the center. -Students should exit curbside only. -PLEASE DO NOT park in the handicapped spot directly in front of the diagonal zone. -PLEASE DO NOT walk across the grassy areas from the church parking lot. Please walk around using the crosswalk/sidewalk.
APPROPRIATE CHROMEBOOK USAGE Dwight Public Schools is proud to be able to loan Chromebooks to students for remote learning during this unprecedented time in education. We want to remind all students that the use of these school owned devices is limited to EDUCATIONAL ACTIVITIES ONLY. Students should be utilizing the Chromebook for teacher assigned and directed activities. Student logins are monitored and any misuse may result in your device being disabled. Some examples of misuse include, but are not limited to the following: general internet searches that do not pertain to teacher assigned activities, the use of websites such as YouTube for non-educational activities, and use of gmail for personal use. We are excited to see what our students are able to accomplish during this remote learning adventure!